Success
Success
Written By Laura Allen, President of Sales & Marketing, AHC Ventures, Inc on May 1, 2022
---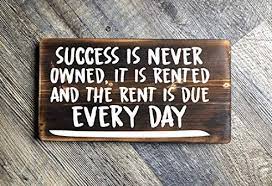 The success of our company is built on our core values: Providing the highest quality plant-based products to help people live better lives and our commitment to giving excellent customer service. We never let that slide.
People go into business hoping to be successful; no one sets out wanting to fail. Success is a relative concept; it's whatever it is to you. To us, we feel successful every time a customer places a repeat order. We feel successful every time someone leaves us a great product review online. We feel successful when someone sends us a testimonial, telling us what a difference our products make to them. We don't just count our success by dollar signs on the balance sheet; we count it by the relationships we have built with our customers over the years. Many of the same people who bought our product when our company was founded over two decades ago are still buying it today. We think that's the best testimonial we can get. Here are a few of the testimonials that we've received from happy CryoDerm users:
I have Diabetic Neuropathy in one foot. Cryoderm helps to relieve the pain up to approx. 5 hours. There is no burning sensation and I have very sensitive skin.
Amy
After applying CRYODERM I felt instant relief from my neck and back pain! Having tried lots of other products I now swear by CRYODERM as being the best product on the market!
Kevin. S
Cannot even imagine not having this product in my clinic! Thank you Lloyd!
Dr. Lisa. S
This is an amazing product. I have used it for years to help with pain. Since pain receptors follow the same nerve pathways as hot/cold receptors this cooling/heating product reduces/stops pain and allows you to feel icy/hot sensation instead.
L.A.S.
I've had chronic back pain for the past five years since getting a compression fracture while riding a jet ski. I have tried everything and nothing comes close to CRYODERM. This stuff Rocks!
John V, Miami
We appreciate the kind words. We appreciate our customers and the trust they place in our products. We know people have a lot of choices, and we thank you for choosing CryoDerm. Our biggest marker of success is your continued support!

Posted In: Pain Management Branding General