Truth in Advertising
Truth in Advertising
Written By Laura Allen, President of Sales & Marketing, AHC Ventures, Inc on March 5, 2021
---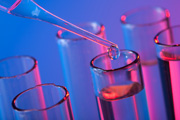 Our truth in advertising is based on research.
As consumers, we're bombarded with advertisements at every turn, on television, radio, the internet, in print. Many times, things sound too good to be true. If it sounds too good to be true, it probably is.
We've always been truthful in our advertising, and people appreciate that. No one wants to spend money on something that doesn't work the way it's supposed to, whether it's a big ticket item for thousands of dollars or something small and relatively inexpensive. We've all spent money on something and soon thought, "I could have just thrown that $20 in the trash."
The claims we make about our products are backed by research and science. You can read about that here.
Our ingredients are an open book. They are listed directly under each product we sell.
We make claims about the quality controls we have in place for our products, which we feel good about. We take every opportunity to meet and exceed the highest level of manufacturing to guarantee purity, quality and efficacy. Our company procedures are based on Quality Standards established by the FDA cGMP.

This ensures that you receive only the best quality products that have the most definitive and desired effect. Our products are also tested throughout the manufacturing process for quality, purity, and consistency before they're packaged and labeled.
We don't claim that our products are going to cure you of rheumatoid arthritis or other conditions, because they're not. But we feel fine claiming that they are going to help control the pain in your arching joints and sore muscles, because they do. And our products are free of parabens, gluten, dyes, aspirin, narcotics, and NSAIDS. CryoDerm's ingredients act on receptors to help reduce swelling, redness, and inflammation of the tissues. You can read about that here.

Please feel free to contact us with any questions you have about our products. To set up a wholesale account, available to all licensed professionals with no minimum requirements, give us a call at (954)978-9290. We appreciate your business.




Posted In: Business Ingredients General Research Practice Management