Personal Business
Personal Business
Written By Laura Allen, President of Sales & Marketing, AHC Ventures, Inc on July 17, 2020
---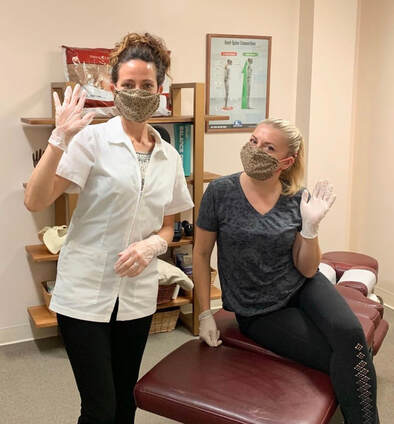 This isn't some social media post where we're sharing our personal business or reading other people's personal business...if you're on social media, you know that's a thing. People share everything from their accomplishments to their problems, whether those are financial, work-related, relationship problems. Some air what most of us would call dirty laundry without a thought.

Instead, this post is about the fact that as many of our customers are chiropractors, massage therapists, physical therapists, and other health professionals, we are in the business of providing personal services. We most often work one-on-one, in a room with a closed door and the expectation of privacy, to provide care to those who visit us.
Our business is personal. Everything from the first phone contact to rescheduling, and everything that happens in your business in between, is part of building a personal relationship with someone. If we don't inspire a patient/client to have trust in us, that relationship is as good as gone. Unless you're the lone practitioner in a rural area, people have choices, and they will usually choose someone who inspires trust.

As the COVID-19 pandemic continues, people are more concerned than ever about doing business with people they can trust. How are you inspiring that? In the past few months, I've had several necessary doctor appointments. During the scheduling call, I've been told to wear a mask and to call from the parking lot when I arrive. The receptionist calls me whenever there is an empty treatment room available for me, so I'm not sitting in a lobby packed with a few dozen other patients. Upon entrance, they ask me to remove my mask and put on a clean one that they provide. My follow-up appointments have been conducted as virtual visits or phone conversation with the doctor. It has inspired my trust, to know that my physican is taking this seriously and taking as many measures as possible to ensure the safety of his patients and his staff.

The days when a massage therapist could flip clients in 5 minutes by just changing the sheets are over...if you are following protocols for transmission prevention. The same for other healthcare providers. Taking time to disinfect between patients is a necessity. At least we hope you are treating it as a necessity. People would rather be delayed for a few moments and know it's because you are doing your part to keep them safe. It will inspire trust and confidence. The nature of what we do, providing personal services to people, are the only reason we need to cultivate the trust of our patients and clients; COVID-19 just happened to come along as a big reminder of that.

CryoDerm has been in business for over 20 years, and we are happy to still be serving some of our very first customers. We've built our business on manufacturing the highest quality products that are plant-based, and providing excellent customer service, and we've built many relationships over the years. We're being as safe as we can be in our own business. Our products are made in a sterile environment. Some of us work remotely, and we're maintaining social distancing in our office. It's important to us to keep our own employees safe.

We wish for you and your employees and your patients and clients to remain safe, and be well. And to the doctors, nurses, public servants, and others on the front lines, we salute you.

Posted In: Business General Practice Management