Cyroderm Heat
There Are 86,400 Precious Seconds In A Day.

Why Spend Any Of Them In Pain?


Use CRYODERM® HEAT Between Office Visits To Provide Pain Relief From:
Back, Shoulder & Neck Pain 3
Muscle Sprains, Strains, Spasms Sore Muscles & Muscle Cramps
Foot, Heel and Ankle Pain, Leg Cramps, Neuromas, Diabetic Neuropathy & Plantar Fasciitis
Arthritis, Bursitis & Tendonitis 3
Painful Elbow, Wrist, Hip, Knee & Ankle Joints

CRYODERM® HEATWARMING products provide fast acting, deep penetrating pain relieving warmth for muscle sprains, strains, sore stiff muscles, bursitis, tendonitis, arthritis and joint pain. The secret of this pain reliever is its deep penetrating, long lasting gentle warmth. Contains Capsaicin, Camphor and other Natural ingredients such as:

Aloe Barbadensis: *Antioxidant and anti-inflammatory.

Arnica: *To reduce bruising and inflammation.

Boswellia: *A natural COX-2 Enzyme Inhibitor (Reduces inflammation and has anti- arthritic actions).

Capsaicin: *Capsaicin derived from chili peppers (Creates Heat) ® depletes presynaptic substance P a neurotransmitter leading to the reduction of pain and blockade of neurogenic inflammation. Once capsaicin is removed, the neurons return to normal.

Green Tea Extract: *Camellia Sinensis Anti-inflammatory, anti- irritant, antibacterial and antioxidant containing an impressive amount of vitamin E, C and B.

ILEX: *Releases muscle spasm and reduces inflammation.

MSM: *A naturally occurring essential nutrient found in healthy tissue and joints (Increases topical membrane penetration, is an anti- inflammatory and local analgesia).

Tocopheryl Acetate: *Vitamin E, antioxidant with moisturizing qualities, slows the degeneration of cells, and promotes cellular renewal.

Yucca Aloifolia: *Provides relief for arthritis, breaks up inorganic mineral obstructions and deposits and reduces inflammation of the joints, testing has demonstrated that saponins found in Yucca are a hormonal material, a steroid, with properties similar to the adrenal hormone, cortisone.

CRYODERM® HEATLOTION can be used in place of massage creams and oils for Myofascial Release, Trigger Point Therapy, Transverse Friction, Deep Tissue as well as all other Modalities. ©

All of the Therapeutic Benefits of CRYODERM in a Warming LOTION & ROLL-ON. See bottle label for complete uses, warnings and directions.

*These Statements Have Not Been Evaluated by The FDA or NHP.


CRYODERM HEAT Breaks The Pain Spasm Cycle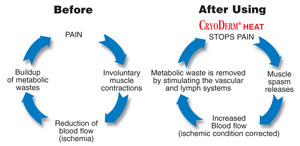 CryoDerm HEAT
Is An Excellent Adjunct To:
Chiropractic Care
Physical Therapy
Podiatric Care
Massage Therapy
Rehabilitation Exercises
Post Sporting Events & Workouts
All Occasions Where Soft Tissue Injuries, Joint Pain, Neurological Pain & Neuropathy Are Present
Enhance Ultrasound Apply CRYODERM HEATonto the area being treated, then put an approved Coupling Gel or Lotion over the area and perform the treatment as usual.
CRYODERM® HEAT: ADVANCING THE SCIENCE OF PAIN MANAGEMENT