Cryoderm®
There Are 86,400 Precious Seconds In A Day.

Why Spend Any Of Them In Pain?


Use CRYODERM® Between Office Visits To Provide Pain Relief From:
Back, Shoulder & Neck Pain
Muscle Sprains, Strains, Spasms Sore Muscles & Muscle Cramps
Foot, Heel and Ankle Pain, Leg Cramps, Neuromas, Diabetic Neuropathy & Plantar Fasciitis
Arthritis, Bursitis & Tendonitis
Painful Elbow, Wrist, Hip, Knee & Ankle Joints
CRYODERM® Cold Therapy Product Ingredients
Arnica: Research studies at The University Of California San Francisco Medical Center showed topical applications of Arnica to be effective in reducing bruising, swelling, edema, hematoma and contusions.
Boswellia: Has Anti-inflammatory and Anti-Arthritic actions in acute and chronic models of inflammation. Boswellia reduces swelling, increasing mobility, thereby effectively reducing pain.
EUCALYPTUS: Is a Pain Reliever with warming properties that is also anti-bacterial in nature.
ILEX: *Releases muscle spasm and reduces inflammation.
MENTHOL: Is used clinically as an anti-inflammatory and Pain Reliever. It causes a cold sensation on the skin, by activating peripheral cold receptors.
MSM: *Is a naturally occurring, essential nutrient found in healthy tissue and joints. Studies at The University of Oregon Medical School reported that: MSM has a wide range of pharmacologic actions including topical membrane penetration, anti-inflammation and local analgesia." Applied topically MSM creates a tingling sensation.
PEPPERMINT OIL: Has anesthetic properties as well as being a vascular and lymphatic system stimulant. Peppermint creates a burning-cold sensation.
PURIFIED WATER: Has been processed by reverse osmosis to insure that it is chemical free.
SD ALCOHOL 39-C: All Natural, Distilled Grain Alcohol. For External Use Only.
Shelf life on CryoDerm Cold Therapy Products is 2.5 years.

*These Statements Have Not Been Evaluated by The FDA or NHP.


CRYODERM Breaks The Pain Spasm Cycle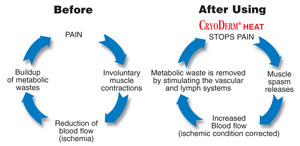 CryoDerm
Is An Excellent Adjunct To:
Chiropractic Care
Physical Therapy
Podiatric Care
Massage Therapy
Rehabilitation Exercises
Post Sporting Events & Workouts
All Occasions Where Soft Tissue Injuries, Joint Pain, Neurological Pain & Neuropathy Are Present
Enhance Ultrasound Apply CRYODERM HEATonto the area being treated, then put an approved Coupling Gel or Lotion over the area and perform the treatment as usual.
CRYODERM® HEAT: ADVANCING THE SCIENCE OF PAIN MANAGEMENT