Rezume
TURMERIC: Provides significant anti-inflammatory and Pain Relievingbenefits. A clinical review published in a February 2008 edition of "Biochemical Pharmacology," explained that curcumin found in turmeric helps to regulate biochemical processes responsible for the expression of inflammatory enzymes. Additional research shows that Turmeric has positive effects on many neurological conditions.

YUCCA ROOT: Provides relief for arthritis, breaks up inorganic mineral obstructions and deposits, reduces inflammation and pain. Studies have demonstrated that steroidal saponins found in Yucca are a hormonal material, a steroid, with properties similar to the adrenal hormone, cortisone. An international research team reviewed data from studies on the anti-inflammatory, anti-arthritic and pain relieving properties of Yucca. They noted strong evidence that yucca's active components, including steroidal saponins, resveratrol and nyuccaols, a seem to exert these actions. They published their findings in a 2006 issue of "Journal of Inflammation."†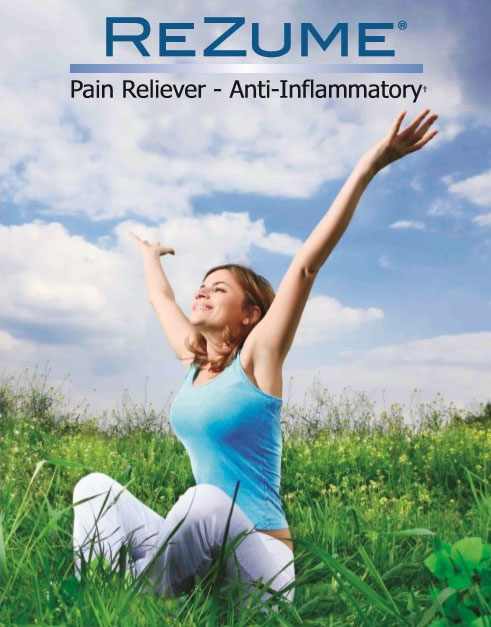 NARINGIN: Is a natural flavonoid glycoside compound found in most citrus fruits, however it is especiay abundant in grapefruits. Naringin contains high levels of antioxidants which help repair and reduce the number of "free radical" ces created during oxidation. These harmful ces damage neighboring ces and put unneeded and unwanted stress on important ces, resulting in bodily and mental stress. Naringin is used to enhance the effects of other drugs as it increases absorption thereby increasing effectiveness†

HYALURONIC ACID: is present in every tissue of the body. It is most concentrated in the synovial fluid which bathes the joints. Retention of water is one of the most important biological functions of hyaluronic acid, second only to providing nutrients and removing waste from ces that do not have a direct blood supply, such as cartilage ces. The presence of HA in those ces maintains the lubrication of joints and aows them to preserve water for other tissues. This results in an activation of our body's white blood ces, reviving the immune system to successfuy decrease and combat unwanted bacteria †

PARACTIN®: is a patented extract of Andrographis Paniculata (containing Andrographolide, 14-Deoxyandrographolides, and Neoandrographolides). Multiple double-blind randomized controed trials (RTC) published in PubMed demonstrated that PARACTIN® reduces the activity of COX-2 enzyme and nproduction of TNF-α, IL-6, IL-1βand IL-10 through selective down-regulation of the genes involved in immune and inflammation processes ((TNFSF14, TNF, TNFRSF6, and IL1A, CCL8 and CXCL11, JAK3 and STAT5A, TLR4 and TLR8 and NF-κB). By inhibiting Nuclear Factor kappa B (NFkB) and other genes that participate in the inflammatory cascade, PARACTIN® inhibits the production of a range of pro-inflammatory cytokines and interleukins (signaling proteins used by our immune system) and other markers of inflammation (ESR, CRP, IgA, Rheumatoid factor) and modulates the dysregulated immune response. Studies showed that it is safe and as effective as NSAIDs or DMARDs for treating acute as we as chronic



Quality Assurance
We take every opportunity to meet and exceed the highest level of manufacturing to guarantee purity, quality and efficacy. Our company procedures are based on Quality Standards established by The FDA and cGMP. This ensures that you receive only the best quality products that have the most definitive and desire effect.

Throughout the manufacturin process every extract is subjected to controlled test of physical and chemical properties looking for active constituents such as bio-chemical profiles.

We us state-of-the-art extraction processes to assure highter quality, ensuring the delivery of safe, pure and effective products. Futhermore, our products undergo a final testing process in an independent FDA recognized analytical testing laboratory. The second phase of quality control is in our state-of-the-art manufacturing facility where products are constantly monitored for quality., consistency and specification prior to packaging and shipping.


SCIENCE & NATURE
The proprietary formula in REZUME is the result of years of research which blends Science and Nature. Utilizing patented extracts with other we-known documented herbal extracts a proprietary blend was created that maximizes the effects of each individual ingredient. Together these anti-inflammatory pain relievers create a natural formula so powerful that just two caplets can bring relief within 30 minutes.


REZUME & CRYODERM:
A DUAL MODALITY APPROACH TO PAIN MANAGEMENT

CRYODERM Topical and REZUME Tablets are formulated to work together when a topical alone doesn't provide sufficient relief. Their synergistic blends work together on several levels to ensure Maximum Pain Relief.

CRYODERM Topical, when applied to the area of pain, begins to Stop Pain instantly by blocking the pain signal and numbing the general area. At the same time Arnica, Bosweia, MSM and Ilex begin to soak into the tissue reducing bruising, sweing and restoring blood flow to the area, setting your body up to heal while providing hours of relief.

REZUME Tablets work on a ceular, systemic level, delivering and reinforcing some of the same great A Natural ingredients found in CRYODERM. REZUME also contains other powerful Natural Ingredients that support Healthy Anti-Inflammatory and Pain Signal Responses. These ingredients can only be delivered in an oral tablet.

This new dual approach to pain management is a major scientific breakthrough being endorsed by many physicians…. As the new standard for pain management.

BOSWELLIA: Has Anti-inflammatory and Anti-Arthritic actions in acute and chronic models of inflammation. Bosweia reduces sweing, increasing mobility, thereby effectively reducing pain. Triterpenes in bosweic acid reduce the synthesis of leukotrienes in intact neutrophils by inhibiting 5-lipoxygenase, the key enzyme involved in the biosynthesis of leukotrienes, which mediate inflammation.

MSM: Is a naturay occurring, essential nutrient found in healthy tissue and joints. Studies at The University of Oregon Medical School reported that: MSM has a wide range of pharmacologic actions including topical membrane penetration, anti-inflammation and local analgesia. In a double-blind study of MSM's impact on degenerative arthritis, it was found that patients who ingested a standardized dose of MSM every day for six weeks felt an improvement in their pain reduction by 82 percent, on average.


I'm allergic to Sulfa drugs. Can I take MSM?
Sulfur is the eighth most prevalent element in the human body. No one is aergic to sulfur itself. Sulfa drugs are sulfonamides. Sulfur (MSM) and Sulfa drugs are completely unrelated and only share similar sounding names†

YERBA MATE "ILEX":Is an Herbal extract from the South American Hoy shrub and has been used for centuries to reduce pain, inflammation and loosen stiff joints

DEVIL'S CLAW:Is approved as a nonprescription medicine by the German Commission E, an expert panel of physicians and pharmacists who advise Germany's counterpart of the U.S. Food and Drug Administration. Recently published double blind studies have shown that Devil's Claw is effective in relieving pain from arthritis, back, hip, knee and joint pain, as we as pain from osteoarthritis, rheumatoid arthritis, gout, bursitis, tendonitis and soft tissue pain (muscle aches)†

WHITE WILLOW: Is a species of the wiow tree. Hippocrates noted the effectiveness of the powder, extracted from wiow bark to ease aches and pain and to reduce fever. The University of Maryland Medical Center points out a study
of about 200 people with lower back pain, which found that the participants who took white wiow bark experienced a significant improvement in pain compared to those who received placebo

ULVA LACTUCA: A green alga that has anti-inflammatory effects as evidenced by the reduction in the inhibition of edema in a clinical trial as compared with the positive control drug and control. PMID: 20143726 (PubMed - indexed for