Research & Development
CRYODERM® is constantly researching, testing, and improving formulas that utilize the latest discoveries in organic natural substances. Biologists have discovered less than 5% of the benefits that come from plants on our planet. CRYODERM® stands ready to utilize the latest discoveries in the natural world to consistently improve and create new formulations.

In addition to pre-clinical testing on human volunteers, we have added a very important new dimension, using blood, urine and saliva testing, along with Applied Kinesiology. These effective methods provide superior factual data.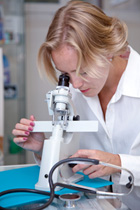 Lloyd List, President of CRYODERM®, has almost two decades of experience researching and applying topical analgesics for pain management and exercise physiology.

Our staff includes a team of specialists including Naturopaths, Pharmacists, Bio Chemists with experience in topically applied products, research and development, quality assurance, and regulatory affairs including FDA CGMP (Current Good Manufacturring Practice) compliance, USDA NOP (Natural Organic Program) and EU Reach Compliance (European Commission on the Environment). Another asset to our team is a specialist in biological plant engineering who is capable of observing and identifying active properties for their beneficial effects.

We also have a review panel of M.D.'s and Chiropractic Physicians who contribute in the development of new products for maximum safety and effectiveness. Other contributors include independent researchers investigating new plant-based nutrients from around the world.